Tags: U8 watch, U watch, U8 smart watch, Bluetooth Watch, U8 Pro watch, U8 Plus Smart Watch
U8 Watch Smart U watch Phone For IOS Iphone Android Samsung LG HTC
This is a new Bluetooth Smart
U Watch
U8
which is compatible with all Bluetooth 3.0 or above enabled smart phones, tablets and PC (support Android 2.3 or above), such as Samsung S3, S4, Note 2, Note 3, Note 4, LG, HTC, SONY etc.
Note :
1.Apple phone can't download the APP. BUT support these function: Passometer, Pressure gauge, Calendar, Calling, Calculator, Clock, Stopwatch and Message Remind But in the future we will improve it. Thank you for your understanding.
2.If you will not download the APP successfully ,please let us know ,we will gladly help you
3.If it will not turn on after you received the watch ,the battery should be fully charged before initial use of the watch phone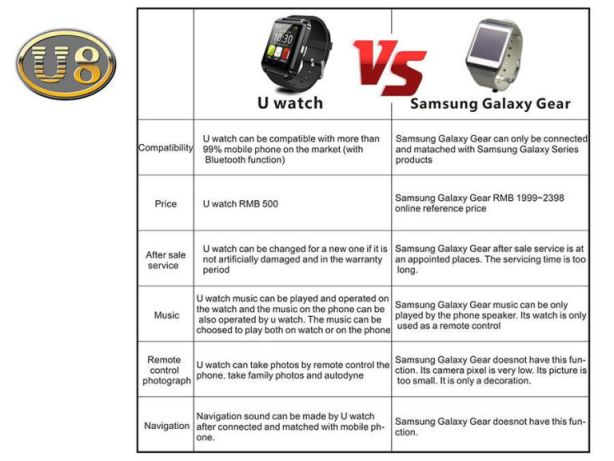 Main Features: :
Bluetooth 3.0 Smart U8 Watch Phone Mate With Sync/Anti-lost Alarm Compatible for Apple iphone 4/4S/5/5C/5S/6 Android Samsung S2/S3/S4/Note 2/Note 3 HTC Sony. If it used for IOS phones,only part of function works
1.48" Touch Screen Smart Watch w/ Bluetooth & Pedometer/ Daily water resistant. Answer or Dial calls from your wrist; Sync Phone book/SMS/call history (Only For Android phones)
Phonebook features: The watch is connected with your smart phone and displays mobile phone contacts.
Dialer Feature: Smart u8 Watch can connect to your smart phone to dial.
Remote taking photo function: You can control your cellphone to take photo from the watch.(only for android phone) Stopwatch, Passometer, Photograph, Barometer, Vibration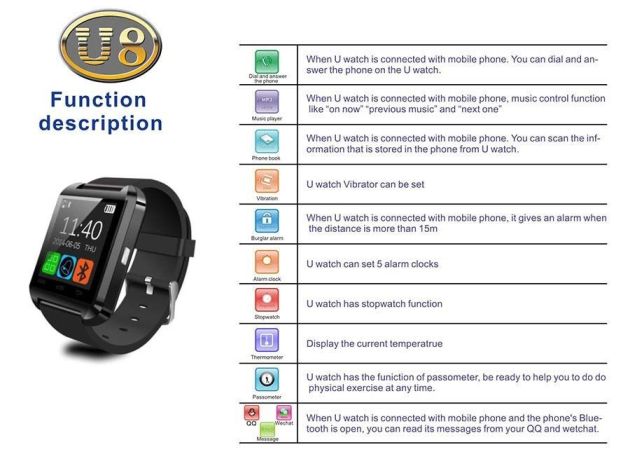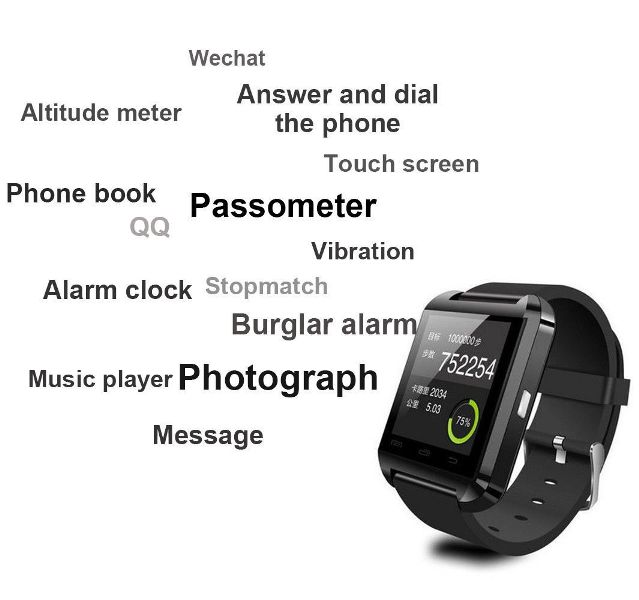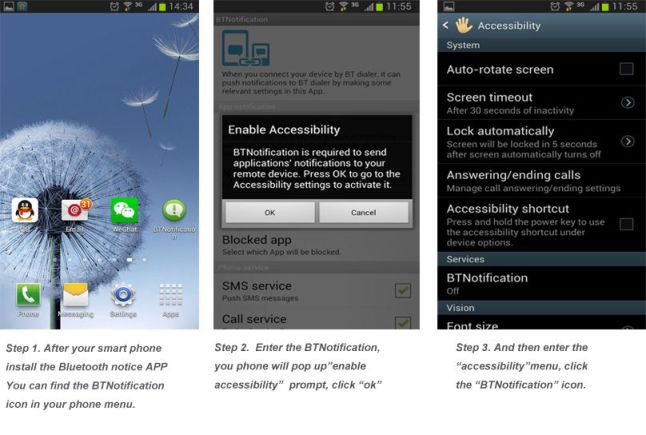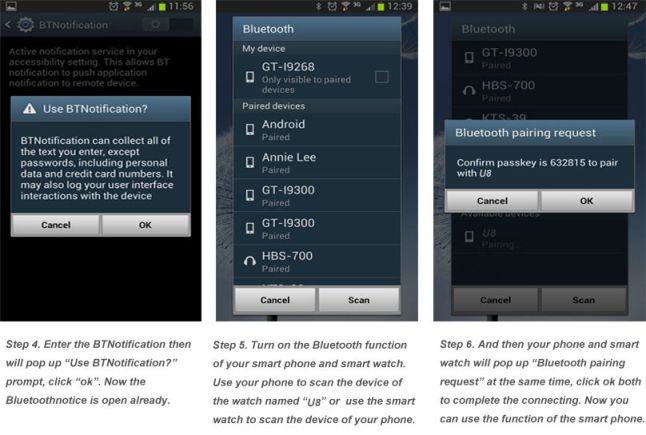 Function:
1.Stopwatch function
2.Support hands-free calls
3.Answer or Dial calls from your wrist
4.1.48" Capacitive Touch Screen TFT LCD
5.Time / Date / Week / Battery state display
6.Ringing reminder when you receive a call
7.Display the number or name of incoming calls
8.Play the music in your phone (after Bluetooth paring)
8.Ringing reminder once your mobile phone disconnected
10.Sync phone book/SMS/call history(only for android phone)
11.Passometer,Photograph,Barometer,Vibration
12.Remote cellphone shutter function.
13.Ring reminder when your Android 2.3 or above smart phone receive a message (including Wechat, Facebook, Twitter,WhatsApp, Skype,and so on)
14.Anti-lost alarm function: When cellphone left watch alarm automatically, after a certain distance to avoid lose the phones
15.If it use for ISO Device only support these function: Pressure gauge, Calendar, Calling, Calculator, Clock, Stopwatch and Message Remind.
Specifications:
1. Material: Silicone and Aluminum
2. Weight: 2.68oz / 76g
3. Color: Black
4. Dimensions: (9.45 x 1.57 x 0.39)" / (24 x 4 x 1)cm (L x W x H)
5.Ambient Noise: ≤75dB
6.Transmitting Range: ≥10m
7.Talk Time: about 3 hours
8.Charging Time: about 1 hour9.
10.Music Play Time: about 6 hours
11.Standby Time: about 160 hours
12.Bluetooth Version: Bluetooth V3.0+EDR, Range of Frequency: 2.4GHz spectrum
13.Language Support: English, Chinese
14.Bluetooth Protocol: A2DP + HFP 1.5 + HS P 1.2
15.Power Supply: Built-in 230mAh rechargeable battery Material: Steel + Silicon
Package includes:
1 x U8 Watch;
1 x USB Cable;
1 x User Manual;